METRO Oregon Zoo Bond Improvement Surveying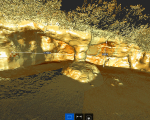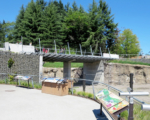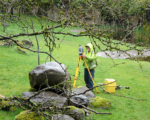 Our team is  providing a full range of survey services to support the extensive facility planning and design efforts associated with the METRO Oregon Zoo Bond. Westlake has provided surveying for replacement of the veterinary hospital, construction of a dedicated conservation education classroom, redesign of the Rhino, Hippo and Condor habitats, construction of Elephant Lands, the stage and concert lawn, and the Zoo Train.  Additionally, we have provided extensive mapping for underground utilities (natural gas, water, power, and sewer), have located test pits and geotechnical borings to support pond design, and surveyed for parking improvements.
3D laser scanning has been incorporated to minimize disruptions to the animals and Zoo visitors, and to provide data that is more thorough and detailed than would have been possible with conventional survey methods, especially for 'rock' walls and curved surfaces. We have also performed extensive construction surveying as a subconsultant to contractor firms.