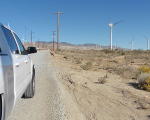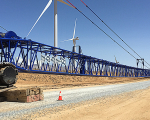 Westlake has worked closely over a number of years to provide extensive land survey support, as well as civil engineering, for the three phases of the Rising Tree Wind Farm. Located in Kern County, California near the town of Mohave, Rising Tree spans 6,400 acres. The three phases have an installed capacity of 198 megawatts (MW)  from 60 Vestas wind turbines. Rising Tree also features an underground 34.5kV electrical collection system, and hub height free-standing meteorological towers.
The primary survey requirement was to prepare the ALTA/ACSM surveys (both pre and post) for the project limits, along with the transmission line corridor. Field staking, and a number of specific survey requirements such as roadway easement exhibits, lease exhibits, permitting support, utility crossing exhibits and interconnect switchyard site, were provided as well. This  required a large amount of records research, as well as close coordination with County and a local title company for each of the 352 parcels,representing 125 separate land owners. Our challenges included land owner notification, vehicle and access constraints, and scheduling conflicts. The Rising Tree Wind Farm interconnects to the grid at the Windhub Substation, which is part of SCE's massive Tehachapi Renewable Transmission Project (TRTP).
Our civil engineering group provided extensive service support to our client. In addition to design for private and public access roadway and pre-construction roadway, we also prepared design plans for the turbine grading and  laydown yard site plans. Our contract also included NPDES and SPCC permitting support, utility coordination, and micrositing.
Rising Tree takes it name from the image of the uplifted palms of the Joshua Tree, which is unique to the Mohave Desert.